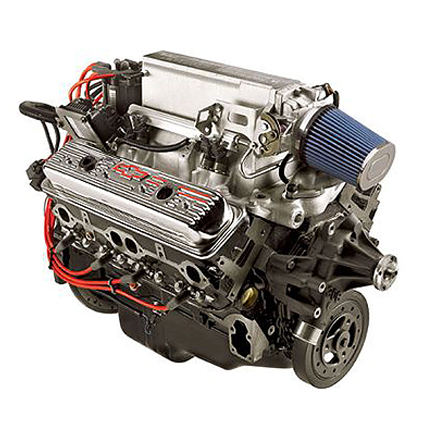 Ram Jet 350- Tech Specs
---
Part Number: 12499120
Engine Type: Chevy Small-Block V-8
Displacement (cu. in.): 350Bore x Stroke (in.): 4.000 x 3.480
Block: Cast-iron with two-bolt main caps
Crankshaft (P/N 10243068): Cast-iron
Connecting Rods (P/N 10108688): Powdered-metal steel
Pistons (P/N 12571703): Hypereutectic aluminum
Camshaft Type (P/N 14097395): Hydraulic roller
Camshaft Lift (in.): .460 intake / .481 exhaust
Camshaft Duration (@.050 in.): 196° intake / 206° exhaust
Cylinder Heads (P/N 12528913): Vortec iron; 64-cc chambers
Valve Size (in.): 1.940 intake / 1.500 exhaust
Compression Ratio: 9.1 nominal
Rocker Arms (P/N 12367346): Aluminum roller style
Rocker Arm Ratio: 1.6
Recommended Fuel: 92 octane
Ignition Timing: Base 10° BTDC, 32° Total
Maximum Recommended rpm: 5500
Balanced: External
Ram Jet 350
SKU: 19417619
MSRP:11613.42
Price Starting At $9,759.88
Horsepower: 351 HP @ 5000 RPM
---
LB-FT Torque: 403 LB-FT @ 3600 RPM TORQUE
---
9.4:1 compression ratio.
Chevrolet Performance's unique Ram Jet 350 combines the classic look of the original Rochester mechanical injection system with the dependability and optimized performance of contemporary electronic port fuel injection.
We've taken our proven 350 Small-Block and topped it with an exclusive port fuel-injection system that emulates the look of Chevy's factory fuel-injection systems from the 1950s and '60s. It's the perfect choice for a resto-mod hot rod from the original Rochester era.
We deliver the Ram Jet 350 with the following components to make it easier to install and start:
Unique intake manifold and plenum that is 9.75 inches tall — plenty of clearance to fit under the hood of most vehicles without modifications
MEFI 4 engine controller
Wiring harness
Detailed instructions
The bottom end of the engine is our stout 350 with a brand-new block, a hydraulic roller cam, Vortec iron heads, and a pump-gas-friendly A venerable 350 cubic inch small-block combination anchors the Ram Jet 350. It is designed for long-lasting durability and pump-gas compatibility, with Vortec cylinder heads, a hydraulic roller camshaft and 9.4:1 compression.GM Performance Parts delivers the engine with the necessary wiring harness and detailed instructions. It can be installed on any 1976-or-earlier vehicle originally equipped with a carburetor.
Possible Applications*
- Update the Stingray
- Round out any hot rod that needs a little "something" under the hood
- Use it to start a conversation on Friday night
*Applications have not been validated.
They are merely suggestions of how you might enjoy your GM Performance Parts crate engine. Some applications may affect engine warranty. Some applications may not be emission legal; check state and local ordinances.
*Images may be stock photos and may not represent the actual part. Part numbers and prices are subject to change without notice