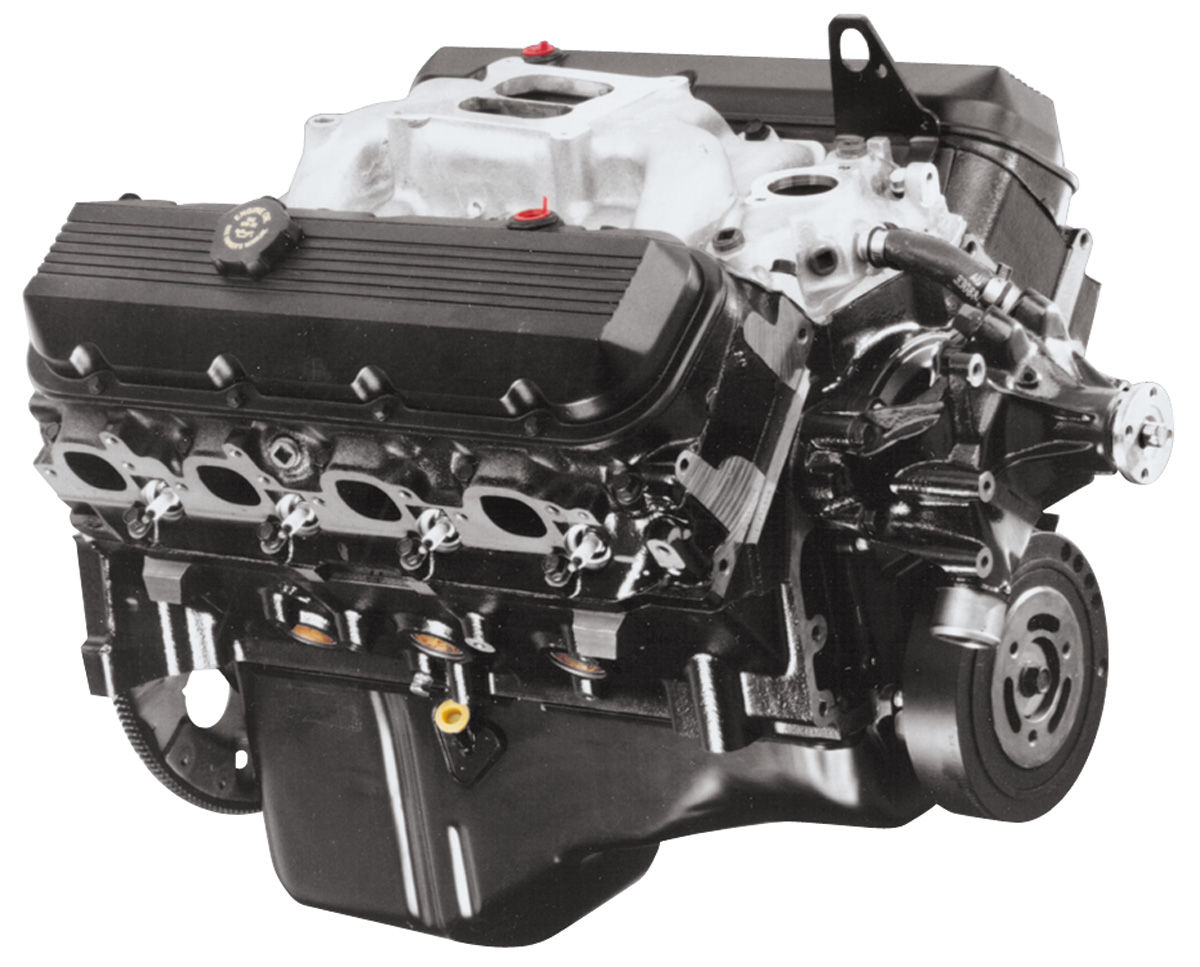 502 HO- Tech Specs
---
Part Number: 12568778
Engine Type: Chevy Big-Block V-8
Displacement (cu. in.): 502
Bore x Stroke (in.): 4.470 x 4.000
Block (P/N 19170540): Cast-iron with four-bolt main caps
Crankshaft (P/N 10183723): Forged steel
Connecting Rods (P/N 19170198): Forged steel, shot peened
Pistons (P/N 12533507): Forged aluminum
Camshaft Type (P/N 24502611): Hydraulic roller
Camshaft Lift (in.): .510 intake / .540 exhaust
Camshaft Duration (@.050 in.): 211° intake / 230° exhaust
Cylinder Heads (P/N 12562920): Iron rectangular port; 118-cc chambers
Valve Size (in.): 2.190 intake / 1.880 exhaust
Compression Ratio: 8.75:1
Rocker Arms (P/N 12523976): Stamped steel
Rocker Arm Ratio: 1.7:1
Water Pump (P/N 19168606): Cast-iron, long-style
Flexplate (P/N 10185034): 14"
Recommended Fuel: 92 octane
Ignition Timing: Base 8° BTDC, 30° Total
Maximum Recommended rpm: 5500
Balanced: External
502 HO
SKU: 12568778
MSRP:11094.83
Price Starting At $9,327.40
Horsepower: 461 HP @ 5100 RPM
---
LB-FT Torque: 558 LB-FT @ 3400 RPM TORQUE
---
Affordable Big-Block performance with huge torque and 461 hp
With 461 horsepower and 558 lb-ft of torque, our 502 HO crate engine has power on tap for every need — whether it's a '69 Chevelle at the drag strip or the Suburban that towed it there.
The 502 HO is all about torque and it hovers at the 558 lb-ft mark at only 3400 rpm and arcs gently above the 500 lb-ft level by 2800 rpm, remaining there through 4200 rpm. All those axle-twisting pound-feet are rooted in a stronger, updated four-bolt cylinder block that houses a forged steel crankshaft, forged and shot-peened rods, and forged aluminum pistons. In other words, it's a super-stout assembly that is as durable as it is powerful.
Iron, rectangular-port cylinder heads keep the 502 HO affordable, and our crate engine assembly includes an aluminum dual-plane intake manifold, a water pump, 14-inch flexplate, balancer, and more. You add the carburetor, starter, and ignition system
*Images may be stock photos and may not represent the actual part. Part numbers and prices are subject to change without notice