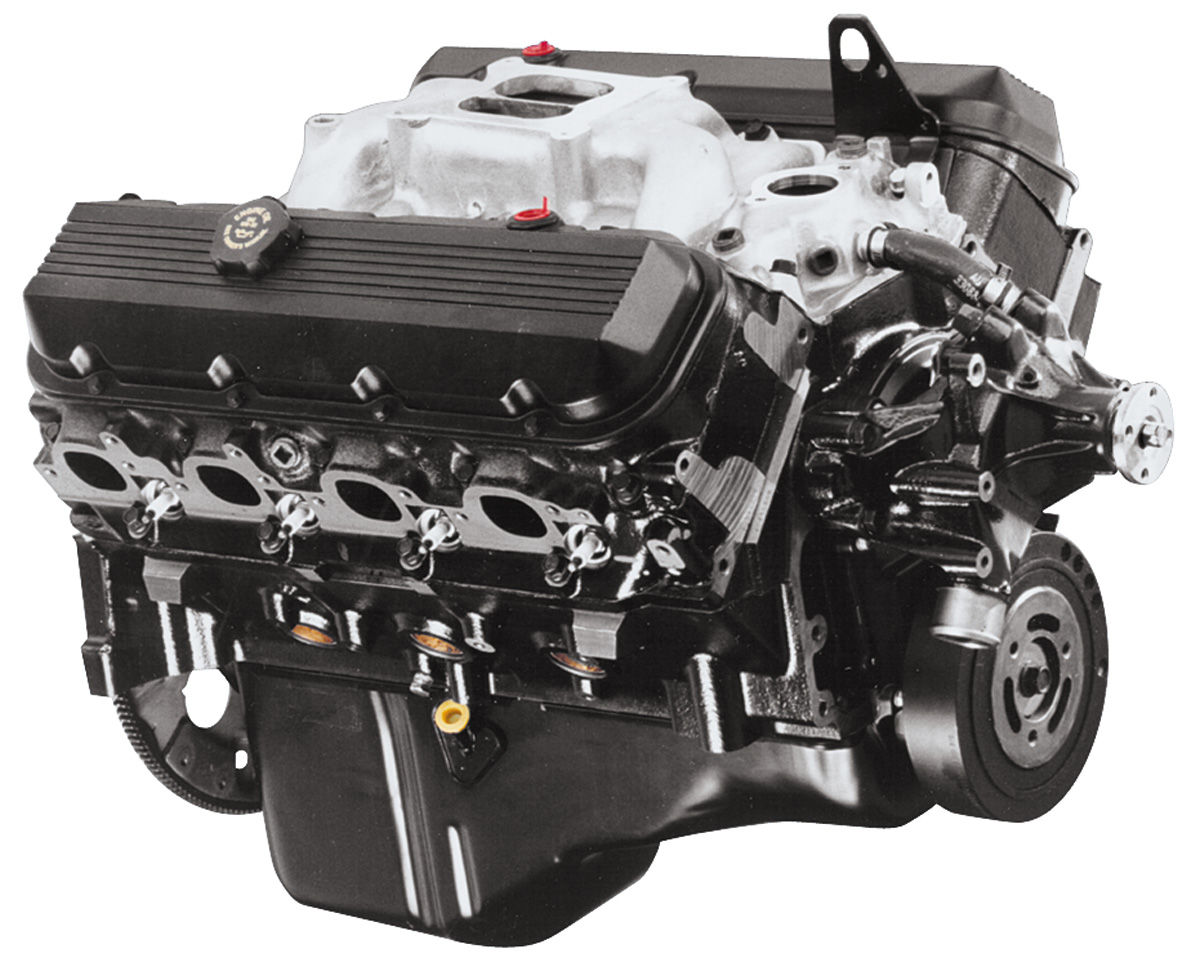 454 HO- Tech Specs
---
Part Number: 12568774             
Engine Type: Chevy Big-Block V-8
Displacement (cu. in.): 454
Bore x Stroke (in.): 4.250 x 4.000
Block (P/N 19170538): Cast-iron with four-bolt main caps
Crankshaft (P/N 14096983): Forged steel
Connecting Rods (P/N 19170198): Forged steel
Pistons (P/N 10215228): Forged aluminum
Camshaft Type (P/N 24502611): Hydraulic roller
Camshaft Lift (in.): .510 intake / .540 exhaust
Camshaft Duration (@.050 in.): 211° intake / 230° exhaust
Cylinder Heads (P/N 12562920): Iron rectangular port; 118-cc chambers
Valve Size (in.): 2.190 intake / 1.880 exhaust
Compression Ratio: 8.75:1
Rocker Arms (P/N 12523976): Stamped steel
Rocker Arm Ratio: 1.7:1
Water Pump (P/N 19168606): Cast-iron, long-style
Flexplate (P/N 10185034): 14"
Recommended Fuel: 92 octane
Ignition Timing: Base 4° BTDC, 26° Total
Maximum Recommended rpm: 5500
Balanced: External
454 HO
SKU: 12568774
MSRP:12301.35
Price Starting At $10,333.58
Horsepower: 438 HP @ 5300 RPM
---
LB-FT Torque: 500 LB-FT @ 3500 RPM Torque
---
Our most economical Big-Block crate engine delivers 500 lb-ft
Chevrolet Performance's 454 HO crate engine is classic in its own time, offering enthusiasts an affordable Big-Block combination with performance specs that will make you think it's 1970 all over again — with 438 horsepower and 500 asphalt-wrinkling lb-ft of torque.
The foundation of the 454 HO is a brand-new, updated cylinder block that incorporates many strength and performance design enhancements – making it a smart and economical alternative to rebuilding. We also add an all-forged reciprocating assembly for maximum durability, a roller camshaft, and a set of rectangular-port iron cylinder heads.
We deliver the 454 HO with a water pump, balancer, 14-inch flexplate, and aluminum intake manifold. Add a carburetor, ignition system, and starter and your budget Big-Block will be ready to roar. All of the necessary parts are available from Chevrolet Performance.
If you want the strength and convenience of the 454 HO bottom end, but want to add your own heads and induction system, use our 454 partial engine (P/N 12498778).
*Images may be stock photos and may not represent the actual part. Part numbers and prices are subject to change without notice